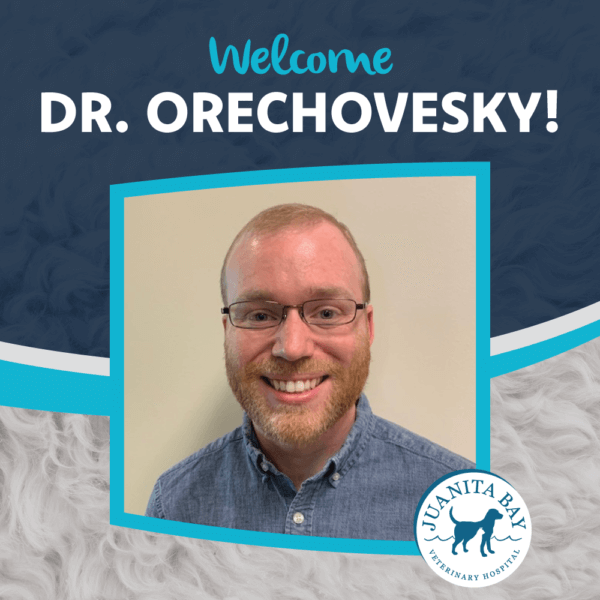 We have exciting news…
Please join us in welcoming Dr. Orechovesky!
We are very please to welcome Dr. Shad Orechovesky to theexperienced medical team at Juanita Bay Veterinary Hospital! Dr. "O" is a wonderful addition to our hospital and we can't wait for you to meet him!
Growing up in Vermont gave Dr. Orechovesky the passion for the outdoors that drove him to make the journey to Washington. Always hiking, rock climbing, skiing, or just enjoying a nice nature walk, he can be found outdoors when not at the veterinary hospital.
Graduating from Tufts Cummings School of Veterinary Medicine in Massachusetts in 2018 with both his Doctor of Veterinary Medicine as well as his Master of Public Health, Dr. Orechovesky worked in Massachusetts for a year as a small animal private practitioner before moving here to Kirkland.
He has a passion for dentistry and soft tissue surgery and always enjoys talking with clients about their beloved furry family members. His own menagerie currently includes a bearded dragon and a ball python. While at his undergraduate university, Dr. Orechovesky picked up competitive ballroom dancing and ultimately became nationally ranked while also pursuing research that was published in a scientific article about anemone physiology in the San Juan Islands!
Dr. Orechovesky is excited to be a part of Juanita Bay Veterinary Hospital and to serve the Kirkland community. He is already working with Dr. Clark and the team so, when you see him around the hospital, be sure to give him a warm Juanita Bay Veterinary Hospital welcome!