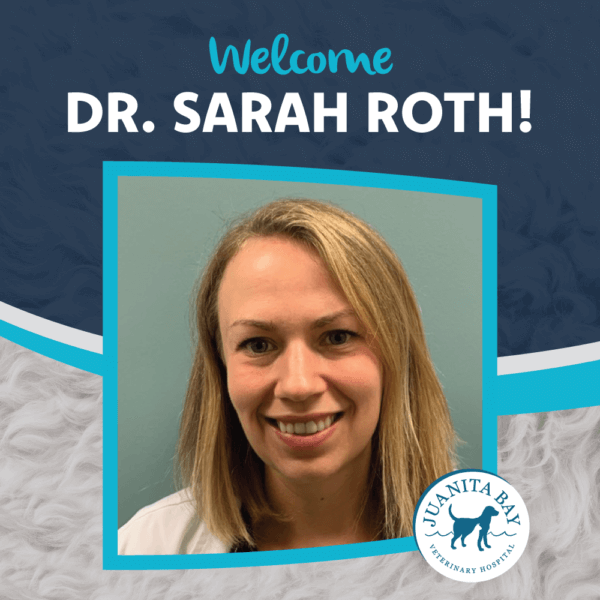 We have MORE exciting news…
Please join us in welcoming Dr. Roth to the team!
We are very pleased to welcome Dr. Sarah Roth to the experienced medical team at Juanita Bay Veterinary Hospital! Dr. Roth is a wonderful addition to our hospital, and we can't wait for you to meet her!
Originally from Dalton, Georgia, Dr. Sarah Roth moved to the Kirkland area in 2017, shortly after graduating from the University of Georgia College of Veterinary Medicine. As a veterinarian, Dr. Roth loves dentistry and soft tissue surgery, but most of all, she loves building relationships with her clients and their pets. To her, these relationships are the most rewarding part of veterinary medicine—aside from the medicine itself.
Outside of the office, she loves exploring and appreciating nature by hiking, backpacking, and skiing up in the mountains. She shares her home with her husband Brian and their two dogs, Pepper and Conrad. When there Dr. Roth enjoys spending time cooking in the kitchen and, of course, rooting for the University of Georgia football team (GO DAWGS!).
A fun fact about Dr. Roth: she has a special interest in pursuing volunteer veterinary work abroad and hopes to make a trip in the next couple of years! Such an incredible goal and we can't wait to support her in preparing for this trip.
Dr. Roth is excited to be a part of Juanita Bay Veterinary Hospital and to serve the Kirkland community. Be sure to give her a warm Juanita Bay Veterinary Hospital welcome when you see her around the office!