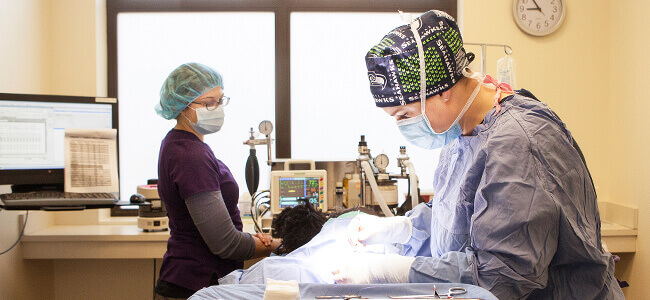 At Juanita Bay Veterinary Hospital, we understand surgery can be a difficult and scary experience for both you and your pet. Our veterinarians and technicians take every precaution to ensure the safety and comfort for your pet, and you can rest assured knowing both of you are in the best, most capable hands.
What to Expect:
Prior to Surgery
Your pet's veterinarian will make a recommendation for surgery based on a thorough exam.
We will discuss the benefit and need for surgery.
You will be given a detailed Medical Care Plan that outlines the procedure and associated cost.
Surgery patients are required to have an exam and pre-anesthetic bloodwork within 30 days of the procedure to confirm they are healthy enough for surgery. For dental procedures, exams are required within 60 days of surgery.
Pets should not have food after midnight prior to their surgery.
The Day Of
You will have a morning admission appointment to review the procedure and discuss any lingering concerns with a licensed technician.
Your pet will receive constant monitoring using advanced equipment that measures: temperature, heart rate, oxygen levels, carbon dioxide, and blood pressure.
We ensure your pet's comfort using a warm water and hot air blanket, as well as effective pain medication.
The procedure is performed with efficiency and care to minimize the time your pet will need to be anesthetized.
A licensed veterinary technician will stay with your pet until he or she has safely recovered from the anesthesia.
We will text you a picture and call when your pet is awake.
Your pet will be under observation all day and kept warm and free of pain.
After Surgery
A discharge appointment allows the opportunity to ask questions and provides you with written at-home instructions on how to care for your pet.
Any necessary medications will be dispensed and ready to go.
We will check in with a care call the next day.
We are always available to answer your questions at any time.
Surgical Services for Cats and Dogs
Because of our on-site team of specialists and veterinarians, we can perform a variety of surgical procedures for your cat or dog. We make surgery easier by having your pet come to his or her home clinic instead of going to an unfamiliar environment or doctor.
Our surgical facilities have the most advanced equipment and technology in veterinary medicine. Whether your pet is coming in for a simple, routine procedure or something more complex, we provide the best, most compassionate care in the area.
Here is a sample of the surgical services we provide:
Spaying and neutering
Soft tissue surgery
Emergency surgery
Trauma repair surgery
Orthopedic repair surgery
Tooth extractions
General surgery
Surgery Room
Surgery is only suggested when absolutely necessary. If it's determined that your pet is in need of a procedure, we discuss all options before proceeding.
As always, we are here to keep your pet safe and comfortable, no matter the circumstances. Please call us today to schedule an exam.