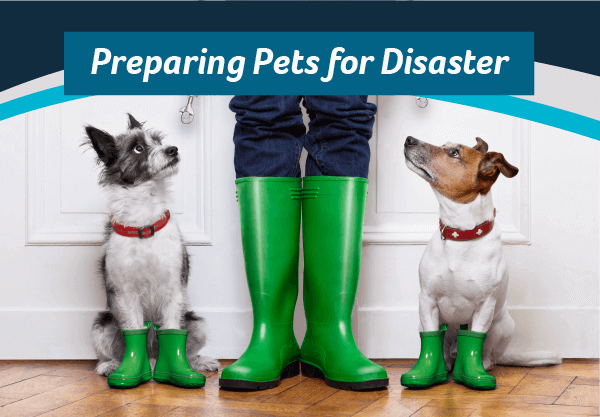 Natural disasters can happen without warning and just like their human families, pets need to be prepared. Making sure your animals are ready of a catastrophic event (earthquake, flooding, heavy snow) can help make it less disastrous for all of you.
One of the first things you need to do is make sure all your pets are up-to-date on their vaccines. If your animals are in a situation where they must travel, or placed in a boarding facility or evacuation shelter, having current vaccines is paramount for their health as well as the health of other animals.
Pets should also be microchipped, and the information on that chip needs to be current. It's not uncommon for pets to go missing, run off, or be misplaced during a disaster and a microchip greatly increases the chances your animal will be returned to you.
Keep in mind that after a disaster, landmarks and familiar scents may be altered. This can cause animals to be confused and lost. When pets do go outside, please keep them on a leash as they may be disoriented.
It's also possible that potentially dangerous wildlife may have migrated to your area, so be on the lookout for these animals as well as other hazards such as downed power lines.
Prepare an emergency kit for pets that is easy to carry and clearly labeled. In this pack, keep essentials such as:
Water, water, water and more water. Have at least seven days' worth of bottled water for each person and pet.
Enough food for everyone for at least a week, if not longer. Ensure that dry food is stored in water-tight containers or use canned food.
Pet medical supplies and first-aid kit. Store photocopies of medical records, as well as a waterproof container with a two-week supply of any medicine your pet requires. You should also have a first-aid guide as well.
Other miscellaneous essentials. Include a flashlight, blanket, recent photos of your pet, liquid dish soap, disinfectant and a long leash and yard stake.
Make sure to have proper transport for each pet—ideally a traveling bag, crate or sturdy carrier. Additional helpful preparedness resources include:
Being prepared is easily done and could be a lifesaver for your non-human family members. If you have any questions or concerns, please do not hesitate to contact us at 425-823-8411.