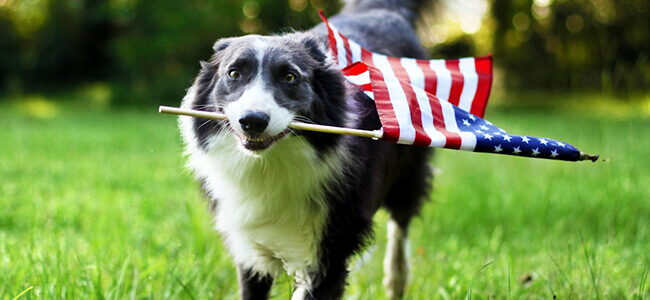 The 4th of July is full of good times with family and friends, great food and spectacular firework displays. While this spells fun for us, it can be a frightening and potentially hazardous time for our pets. Sadly, we have many calls for pets that go missing during this time. Keeping your pet indoors, providing ID tags with current contact information and a registered microchip are the most important safety measures you can take to protect your pet.
If your pet becomes anxious around loud noises and you feel they may need medication to help keep them calm during the firework season, please contact us. There are several new options available for supportive therapy that may help your cat or dog. These medications can help support behavioral health, facilitate relaxation and reduce anxiety in your pet. We will work with you to determine the best option for your pet. Patients must have a current wellness exam with one of our veterinarians in order to receive a prescription. It can take some time and adjustment to determine the best medication and dose for your pet's individual needs, so please contact us well in advance of the holiday.
Please remember that the 4th of July holiday falls on a Monday this year! We will be open on Saturday the 2nd and then will re-open on Tuesday, July 5th at 8 am.
We hope you have a safe and happy 4th of July!