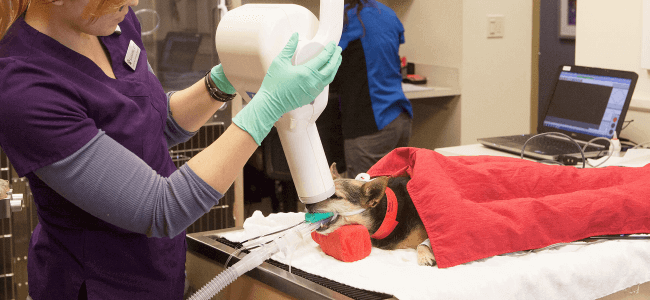 The experienced team at Juanita Bay Veterinary Hospital understands the importance of maintaining your pet's dental hygiene. Unfortunately, more than 70% of dogs and cats over the age of three have dental disease. Because cats and dogs can't fully express what they're feeling, it's important to bring them in for regular wellness exams.
During these routine check-ups, we thoroughly examine your pet's teeth and gums to ensure they are free of discomfort and illness.
Regular Dental Care for a Healthy Mouth
At Juanita Bay Veterinary Hospital, we understand that not all pets are alike, which is why our recommendations are based on your pet's individual needs. However, all cats and dogs that come in for a wellness visit receive a dental exam so oral disease can be prevented or immediately diagnosed and treated.
When you bring your pet in for dental care, you can expect the following:
Tooth and gum examination
Full mouth dental x-ray
Dental cleaning and polishing
Tooth extractions, as needed
Oral surgery, as needed
Recommendations and tools for oral care at home
Dental X-Rays for Immediate Results
The skilled staff at Juanita Bay Veterinary Hospital is pleased to offer the convenience of digital dental x-rays. In order to accurately and effectively diagnose oral health problems, we often turn to our precise digital x-ray technology. The majority of dental disease occurs below the gum line, and these x-rays allow us to gain a more in-depth understanding of your pet's oral health. This means we can diagnose issues early on, minimize disease progression and pain, and get your pet back to normal as soon as possible.
Our in-house digital radiology capabilities enable us to perform x-rays and analyze the diagnostic film within moments. This procedure is not only efficient, it also provides a high-quality image to ensure a more accurate and informed diagnosis. You can be confident that oral surgeries, such as extractions, are performed only when necessary.
At Juanita Bay Veterinary Hospital, you can rest assured knowing that your pet is in good hands. To schedule your pet's next oral exam, please give us a call today.