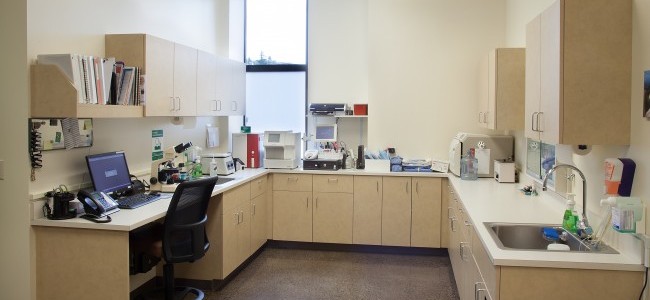 When you bring your pet in for diagnostic testing and evaluations, it can be a nerve-wracking experience. The compassionate team at Juanita Bay Veterinary Hospital is here to put you at ease. Our skilled receptionists and licensed technicians support you and your pet from beginning to end, keeping you informed and involved every step of the way.
Digital X-Rays for Quick Results
In this day and age, immediate diagnostic results should be the standard in veterinary medicine. At Juanita Bay Veterinary Hospital, we use our digital x-ray technology to generate accurate screenings in mere seconds.
Different Uses for Veterinary X-Rays
X-rays are one of the best, most valuable tools for analyzing different internal areas of the body. When pets are sick or suffering from trauma, they allow us to identify many different types of illness and injury. During emergency situations, time is of the essence and our digital capabilities are not only extremely fast, but the images are also crisper and clearer. This enables us to make more accurate diagnoses, ensuring better outcomes for your pet.
With x-rays, we can monitor and identify:
Arthritis
Tumors
Bladder and kidney stones
Lung abnormalities, including pneumonia
Bone damage
Organ integrity
Foreign objects
Additionally, we use x-rays to examine your cat or dog's dental health. For example, we can identify tooth decay, root damage, gum abnormalities, tumors, and abscesses.
Ultrasounds and Radiology for Your Cat or Dog
The staff at Juanita Bay Veterinary Hospital is proud to offer ultrasounds as another highly beneficial diagnostic tool. Available on-site, ultrasounds allow our board-certified radiologist to examine and analyze three-dimensional images of soft tissue structures. These clear images allow us to identify tumors, abnormalities, and inflammation without taking invasive measures.
We also offer other radiological services that allow us to deliver immediate visuals and more effective diagnoses. This tool is especially useful when developing treatment plans for cancer patients.
Non-Invasive Diagnostics to Keep Your Pet Happy
Oftentimes, we use ultrasounds in conjunction with other noninvasive methods, such as x-rays, to better assess the size, dimension, and position of the organs. Instead of taking painful biopsies, ultrasounds allow us to obtain samples without intrusion. This can help us better understand internal organ issues and cancers. In addition, anesthesia and sedation is oftentimes not necessary during ultrasounds, saving your pet from further discomfort.
If you would like to bring your cat or dog in for diagnostic testing, please schedule an appointment with us today. At Juanita Bay Veterinary Hospital, your pet is always in the best of hands.