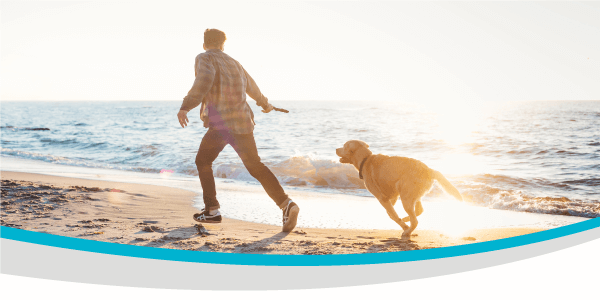 What contributes to a pet becoming obese? The reasons vary. Sometimes it's as simple as a lack of exercise and too much food. Age can play a role, too. As pets get older, their energy levels drop, and that often coincides with a tendency to exercise less. And pets who've been spayed or neutered gain weight faster than pets who haven't been sterilized.
Regardless of the reasons behind your pet's weight problem, there are several steps you can take to help your fluffy friend get back into his or her skinny collar, like measuring food to combat overfeeding, turning your daily walk into a jog, and getting your pet screened for any possible health conditions – like Cushing's disease and hypothyroidism – that could be contributing to the problem.
Sometimes exercise and portion control don't quite do the trick. In that case, it's probably time to go with a special diet. Our nutrition experts recommend Purina Pro Plan Veterinary Prescription Diet OM-Overweight Management, whose low-calorie and high-protein formula works naturally with your pet's digestive system to help them lose weight and stay full between feedings. And Purina offers home delivery of their prescription foods through their Purina Vet Direct program. You can get 30% off your first automatic shipment when you use the promo code TAKE30 and an additional 5% off when you add a supplement to your order, using the promo code TAKE35.
Visit ProPlanVetDirect.com and enter the Clinic ID 17YHK, to take advantage of these great offers from Purina Pro Plan.
Our experienced medical team is happy to consult with you on several other recommended weight loss management diet options that can also be shipped right to your doorstep! If you have any questions about your pet's weight or about feeding and exercise recommendations just call us at 425-823-8411 today!