Customer Care Representative
Lucie – Customer Care Representative
Lucie was born and raised in the Czech Republic. Prior to joining Juanita Bay Veterinary Hospital in 2008, she worked as a nanny in Colorado. She lives in West Seattle with her husband, Dave and their mystery mutt Avalanche Danger. She decided to work in the veterinary field because she loves animals and the people that care for them. Lucie enjoys the opportunity to learn something new every day as she gets to interact with pets and their humans!
Ashton – Customer Care Representative
Ashton is originally from Spokane and has been one of the welcoming front desk faces at Juanita Bay Veterinary since 2016. She has a degree in business and loves using her skills to help both our pet patients and their families, and especially appreciates the educational opportunities she has while working reception. When she's not working, Ashton enjoys art and painting, visiting family in Eastern Oregon with her husband and two kids as well as spending time with her Australian cattle dog Roxie.
Kasey – Customer Care Representative
Kasey was born in Los Angeles, CA where she attended Pierce College Animal Science, volunteered at the L.A. Zoo, and the Natural History Museum exotic animal care. Her Father's big heart helped to develop her love for animals when he welcomed in stray dogs and cats to their family home during her childhood. Kasey thrives to enhance her skills to help her veterinary team in any situation and finds purpose in helping those in need through volunteer work. She also enjoys hiking, camping, kayaking, and movies. In her Father's tradition, she welcomed two stray kitties into her home. Eileen has only 3 legs, but has managed to master climbing and jumping on any counter top, but Harley is so sassy that she has made it known she is in charge of the house!
Courtney – Customer Care Representative
Originating in Snohomish, WA, Courtney attended the University of Arizona for Equine Science before returning home to Washington where she continued her extensive veterinary assistant career working in primary care, dermatology, and emergency medicine. Growing up on a small farm with horses, dogs, cats, rabbits, and birds, a career in the veterinary field just came naturally. Courtney enjoys the opportunity to meet family pets of all species and breeds. Her eagerness to learn more about veterinary medicine every day has cultivated her goal to complete her veterinary technician licensure in the future. Courtney spends her spare time with her Blue Tick Coonhound named Baby, playing fetch with her cat Tot, traveling abroad, and caring for her rescue Mustang horses from Yakima, WA.
Licensed Veterinary Technicians
Rachel Lynn – Licensed Veterinary Technician
Rachel Lynn was born and raised in Ft. Myers, Florida and has been an integral part of our Juanita Bay Vet medical team since 2018. She received her Bachelor's degree in Economics from the University of West Florida and also holds an Associate's Degree in Veterinary Technology from St. Petersburg College. After spending time in a corporate setting, Rachel Lynn is excited to be free from the "cubicle life" and in a field where she can work with animals and help guide pet parents through the ups and downs of life with pets.
Rachel Lynn is a Fear Free certified professional and holds her Silver certification in low stress animal handling. She is currently in the process of completing her training for Cat Friendly certification with the American Association of Feline Practitioners and is eager to implement new ways to limit stress on our feline patients. While her fellow team members are inspired by her exceptional technical and problem-solving skills, our patients appreciate her calm and steady demeanor that helps set them at ease during visits. Rachel Lynn shares her life with her husband Stephen and a sweet little Shih Tzu mix named Mason.
Julia – Licensed Veterinary Technician
Julia was born and raised in Pennsylvania, moved to Seattle in June 2021, and joined our team right away. Growing up with many different types of animals in her home, her natural love for animals lead her to pursuing her career as a licensed veterinary technician. Julia's true passion is improving the quality of life of every animal in her care, which also motivates her to continue to learn and improve on her skills to be the best technician possible. Julia's high standards for veterinary care and compassion for her patients have already made her a valuable asset to our team.
Outside of work Julia loves reading and can often be found somewhere reading a book. She also enjoys martial arts and practices a combination of Shotokan, Aikido, and Judo. Julia has multiple cats in her home that are notorious for hogging pillows and have some strange habits like licking wooden furniture. She also has one cat who refuses to drink anywhere but straight from a running faucet, and another cat who absolutely hates the game of life!
Photo: Attached
Veterinary Assistants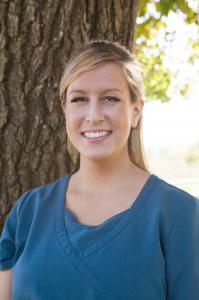 Rachel – Veterinary Assistant
Having a career that revolves around animals is something that has always been important to Rachel, who graduated from PIMA Medical Institute and joined our team in 2014. Her goal is to one day become specialized in dog training and start a puppy socialization class. When not helping pets, Rachel enjoys spending time in the outdoors with her family.
Kim – Veterinary Assistant
Originally from Okanogan, Kim graduated from Washington State University and loves working with both our pet patients and their families. Kim joined the Juanita Bay Team Jan 2019 and is currently enrolled in the Penn Foster Veterinary Technician Program. When she's not working, she is passionate about being outdoors, and especially enjoys hiking with her dog, Koda.
Katie – Veterinary Assistant
Katie is a Texas native who is currently attending school at the University of Washington. While she very much enjoys working with animals and describes herself as an "expert puppy cuddler", she does hope to eventually have a career in the non-profit world. She shares her home with her best friend—a cat named Mittens.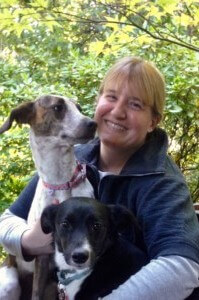 Kelly – Veterinary Assistant
Kelly has always loved animals and as a young girl aspired to become a veterinarian.  Born and raised in Kirkland, she graduated from the University of Washington with a degree in Zoology and spent almost 20 years as a zoo keeper before joining the team at Juanita Bay in September 2019.  Kelly was voted "Most likely to start her own cat sanctuary" by her coworkers and has a particular fondness for nervous and cranky cats.  She is looking forward to learning more about fear free handling to provide our feline patients with the most comfortable visit possible.  Kelly shares her life with her husband Paul, her rescue dogs Maya and Fiona, and an undisclosed number of cats!  In her free time, she enjoys cuddling with her pets, playing the piano and spending time in nature.
Christine – Veterinary Assistant
Christine grew up in Redmond and recently moved back after living in Vancouver, BC for 7 years. She did her undergraduate at the University of British Columbia, where she studied psychology and participated in animal welfare research. Christine had always known she wanted to work with animals. After earning her degree, she worked as a dog walker and then as a veterinary assistant in an emergency clinic. Christine is currently completing prerequisites to pursue a doctorate in veterinary medicine. Her motivation to become a veterinarian is her desire to contribute directly to her community while also helping animals live good lives filled with pleasure, agency, and minimal suffering.
Christine loves seeing the bond people have with their pets and hearing pet's nicknames. In her free time, she loves to read, cook, spend time with family, and explore the PNW by hiking any chance she gets. Christine's dog, Calliope, motivates her to get out and explore- Calliope is always up for an adventure!
Hospital Leadership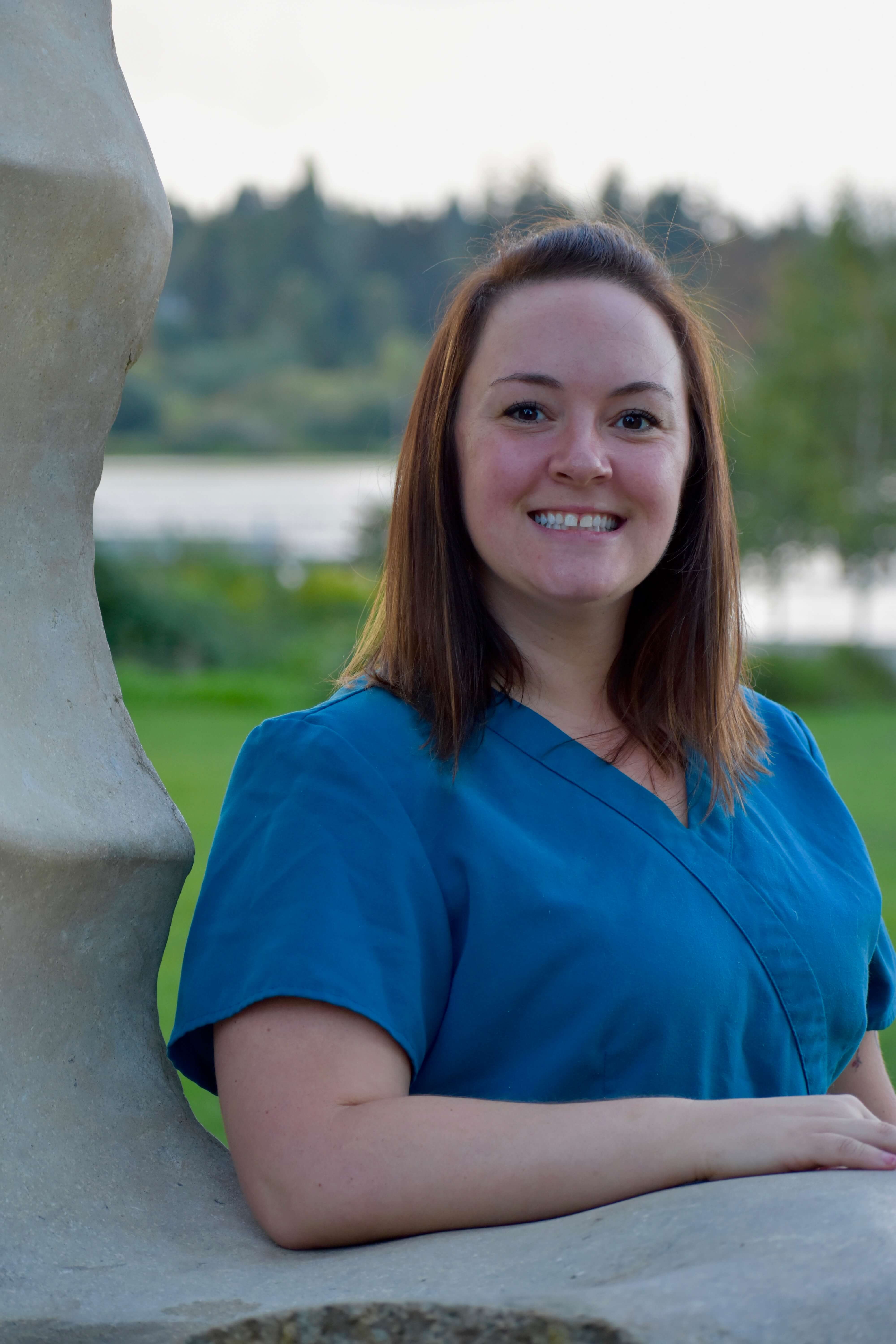 Rachel – Lead Licensed Veterinary Technician
Rachel knew from a very young age that she wanted to work with animals. She graduated from PIMA Medical Institute in 2011 and continued on her path in veterinary medicine where she enjoys tackling new challenges each day and educating clients on how to strengthen their bond with their pets.
Rachel is very close with her family and lives just a few miles away from her family home. She and her partner Chris share their home with a goofy Pitbull named Roscoe and a laid back cat that acts like a dog named Barkley. In her free time, Rachel enjoys being active and going hiking, camping and fishing.
Nikki – Hospital Administrator
Originating in Southern California, Nikki began her career in the veterinary industry in 1994 after completing a Veterinary Assistant program and working at a general practice in Irvine, CA. She brings 24 years of business management experience, Fear Free Veterinary Professional certification in 2020, 17 years of experience as Practice Manager at a veterinary specialty hospital, and a true passion for strengthening our hospital team to help provide exceptional customer service and medical care to every one of our patients and their families. She shares her home with her husband J.R. and a rescue Pitbull named "Piggy", who lives up to her name by eating anything she can find in the garden. In her spare time Nikki enjoys gardening, classic car restoration, and ongoing behavioral training with Piggy. In 2020 she completed her Fear Free Veterinary Professional certification.
Jayme – Lead Receptionist
As a Seattle native, Jayme has 15 years of experience working in the veterinary field right here on the Eastside. Her extensive hands-on experience, genuine love for building client relationships, and commitment to her hospital team has greatly contributed to the outstanding level of customer and patient care that our team has been able to achieve since she joined our practice in 2015. Jayme enjoys reading, walking, and spending time with her son Henry, her avid hunter kitty Abel, and her bouncy, snuggly Poodle Mix named Cody.